---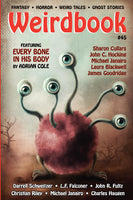 Weirdbook #45 continues its mission of celebrating fantasy, horror, and weird fiction, with another jam-packed issue of stories. Here are works by such talents as Adrian Cole, Darrell Schweitzer, Sharon Cullars, and John R. Fultz.
The complete lineup:
THE DRAGONS OF THE NIGHT, by Darrell Schweitzer
LOVE AND SORCERY, by John R. Fultz
THE RECKONING, by Sharon Cullars
EVERY BONE IN HIS BODY, by Adrian Cole
WE WERE X-MEN, by Abdul-Qaadir Taariq Bakari-Muhammad
SOME BATTLES CANNOT BE WON, by Paul Lubaczewski
NYKTHOS, by Marlane Quade Cook
A WISE AND PATIENT MOTHER, by Laura Blackwell
DRAGON FOOD, by Franklyn Searight
The NIB; AND A BRIEF STUDY IN COSMIC IRRELEVANCE, by Christian Riley
HOUSE OF THE GRAND FLY, by Charles Haugen
THE SMITH AFFAIR, by James Goodridge
THE WAY ORDER IS MAINTAINED, by L.F. Falconer
THE ADJACENT POSSIBLE, by Michael Janairo
THE GOLDEN BOY, by Aditya Deshmukh
WHITE WAKE, by John C. Hocking
Plus a selection of uncanny poetry by Chad Hensley, Frederick J. Mayer, Allan Rozinski, K.A. Opperman, Ashley Dioses, and Dave Truesdale.