---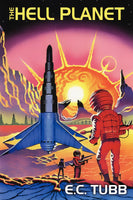 Between the frozen wastes of the night side and the searing inferno of the dayside, the Twilight Belt held all that was Human on the tiny world of Mercury, Hell Planet of the Solar System. A strange world, airless, subject to the alien distortions of Einsteinian mathematics, Mercury was both a promise and a challenge, for here could be found torrents of cheap power essential to the ships and men in space.

Lee Correy, Commander of the Station, plunges into the frigid wastes in a desperate race against time to find and rescue both his brother and the essential component of the beam control. Fighting impossible conditions and incredible alien life, he is up against the enigmatic mystery of the sand devils, a dead man who walked, and a machine that could not fail—but did.

Here is a story of the future, of the planets and the men who will colonise them, of the way they will live and the problems they will face. With mystery, adventure, exciting action and scientifically correct detail. A story of what might well be in the days to come.