---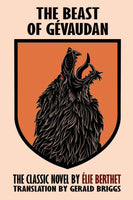 History buffs are in for a treat with this book, which is based on actual events involving a mysterious beast that terrorized the south-central region of France called the Gévaudan during the years 1764 thru 1767. It killed or maimed hundreds of its citizens. King Louis XV even offered rewards for destroying the ferocious animal, and thousands of hunters sought vainly to earn the prize. The monster was reported dead a number of times, but the attacks continued. Public hysteria led to a number of myths about the beast, giving birth to a legend which still exists today.
In 1858, Élie Berthet (1815-1891)—one of the leading novelists of the 19th century—was the first to write a romanticized version of these events under the title The Beast of Gévaudan. Intertwined with the efforts to conquer the beast is the continued tension between the Protestants and the Catholics plus a budding romance affected by both.
Over the years, at least a dozen books have been written about this legend. Several movies and a number of TV documentaries have been produced in recent years as well. Berthet's pen brings to life the tumultuous events of this pre-Revolution period of the French empire as few writers could. It makes for exciting reading.