---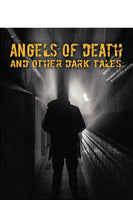 Accountant Michael Parker had been seen by several witnesses clutching his head before purposefully throwing himself in front of a London bus. A post-mortem examination had ruled out a seizure or drugs, which only left suicide. Case closed.
But Parker's widow refused to accept these findings. There had been no suicide note, and Parker had no reason to kill himself. They had been happily married and comfortably off.
His widow believed that someone had intentionally driven Parker to take his own life, and was morally, if not legally, guilty of murder. So she hired private investigator John Salford to look into the case.
Salford uncovered not one murder, but several, and his own life was then threatened…
ncluded in this collection are:
ANGELS OF DEATH
THE DESCENDANT
THE DARKEST WITCHCRAFT
THE VOICE-STEALERS